Welcome to the website of the Australian Embassy in Morocco
If you require urgent consular assistance from outside of Australia please contact the 24-hour consular emergency hotline on +61 2 6261 3305 . If you are within Australia please call 1300 555 135.
Christmas Closedown
The Australian Embassy in Morocco will close over Christmas and the New Year from Thursday 24 December 2020 - Friday 1 January 2021. You can contact the embassy at [email protected]
Please direct urgent enquiries to +61 2 6261 3305
Coronavirus (COVID-19) Notice
Due to the State of Emergency in Morocco, the Australian Embassy is working limited office hours to ensure the safety of its staff. The Embassy will reopen to the public for passport and notarial services, by appointment only, every Thursday.
We are continuing to provide consular services to Australians in Mororcco. You can contact the embassy at [email protected]
Please direct urgent enquiries to +61 2 6261 3305
Follow us on Facebook to receive updates on COVID-19 in Morocco, advice on health, and updates regarding international travel.
We now advise all Australians to reconsider any non-essential overseas travel at this time, due to the health risks from the COVID-19 pandemic and the significant disruptions to global travel
In response to COVID-19, also known as 'Coronavirus', the Australian Government has announced a number of border control measures. These measures are reviewed and updated regularly. All people entering Australia must self-isolate for 14 days. For the latest information please click see: https://www.homeaffairs.gov.au/news-media/current-alerts/novel-coronavirus
Travellers to Morocco
You can find up-to-date information regarding the coronavirus on the Australian Department of Health's website.
For updated travel advice regarding the COVID-19, consult: Smartraveller.gov.au/crisis/covid-19-and-travel
For updated travel advice for Australian travellers in Morocco, consult: Smartraveller.gov.au/destinations/africa/morocco
The Australian Embassy in Rabat does not provide visa or immigration services.
The Department of Home Affairs (DOHA) at the Australian Embassy in Cairo is responsible for managing visa and immigration matters, including applications for Australian citizenship by descent, for residents of Morocco. Please consult their website or the Department of Home Affairs for further information.

Economic and Commercial Diplomacy
The Australian government has launched a new Economic and Commercial Diplomacy (ECD) program to promote Australia as an attractive destination for investment, education and tourism. The EDC program will use all of the Australian Government's diplomatic resources and our national networks to advocate for an open global economy, support businesses in search of business opportunities, advance our political and economic interests and strengthen our international competitiveness.
Foreign Policy White Paper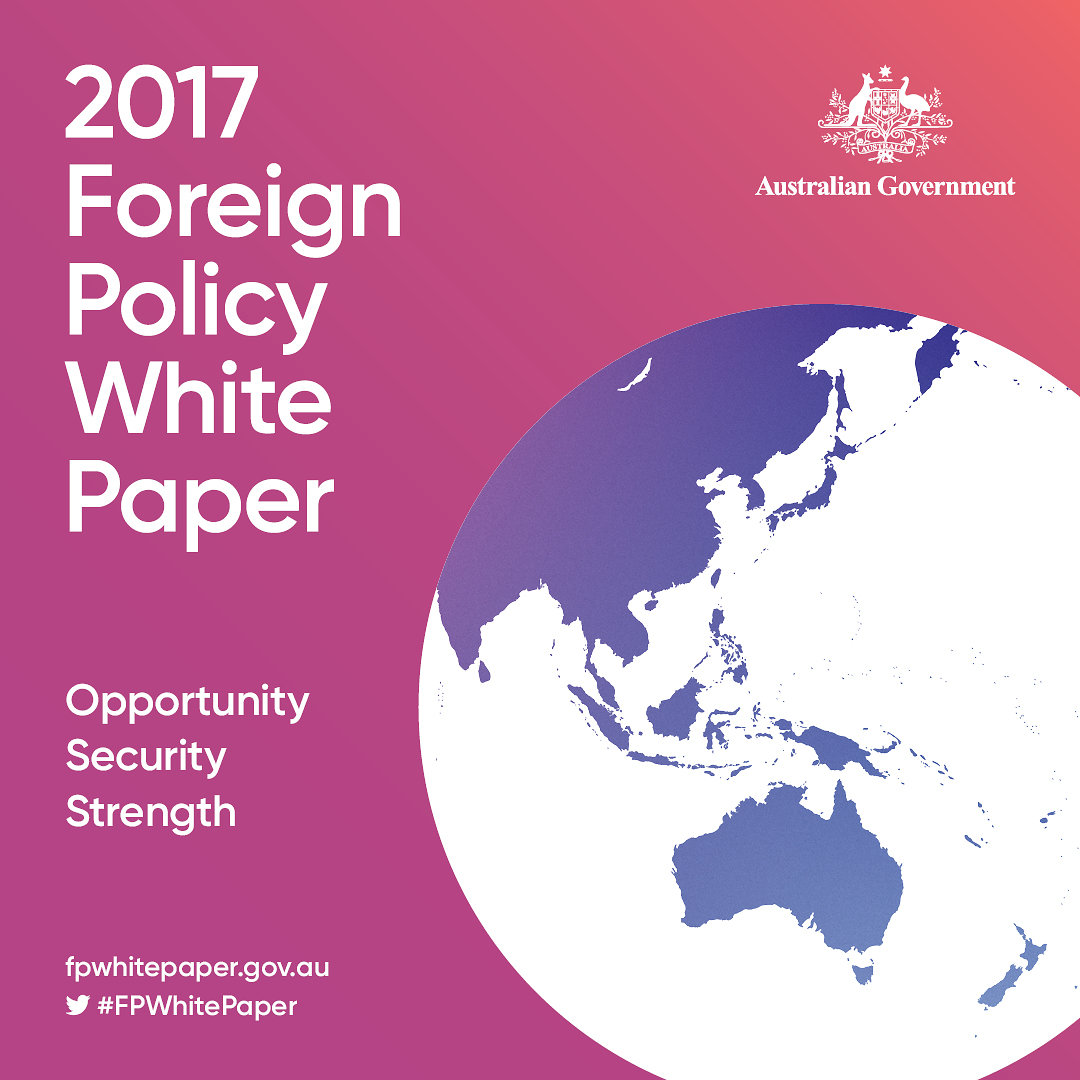 The Australian Government launched its Foreign Policy White Paper in November 2017. It is our comprehensive strategy to enhance Australia's security and prosperity in a contested and competitive world. Australia is a regional power with global interests. Our strong economy and institutions, innovative businesses, educated and skilled population and secure borders provide solid foundations for success.
Read the Foreign Policy White Paper.
We're on Facebook!
The Australian Embassy in Morocco has set up an official Facebook page! Please like, share, and follow for the latest updates on the Australian Embassy's activities, and cultural events celebrating the close links between Australia and Morocco.
Latest news and events